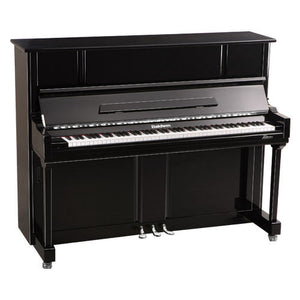 This is the most affordable Baldwin piano in the collection.  It features a beautiful high polish ebony cabinet. The interesting thing about this particular model is that even though it is the least expensive in the line, there is no changes to the specifications. This is our "Most Sold" Baldwin model.  
The BP-1 is the perfect model for the beginner because it will allow them to go from beginner to advanced without having a fear they have outgrown it.  The tone and touch is very distinctive. It is definitely an American designed piano.  American company and American distribution.  
If you are looking for the perfect piano to grow with, this is it!!!
Silver Hardware 
German Röslau Strings
100% Virgin Wool Hammers
Solid Spruce Soundboard
Slow Close Fallboard
German Designed Action
Height: 47"
Width: 60"
Depth: 25.25"
Weight: 535 LBS