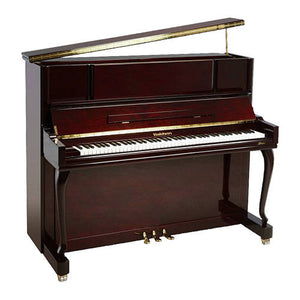 The BP3 is a cabinet upgrade from the BP1. As you can see from the picture, the lid can be folded back in half and also lifted to have a grand piano effect.  This is the only model that comes in a beautiful Rosewood color and fancy curve legs.
The sound holes along with the lid give you a real booming sound that is powerful enough to be used in a large space or will allow you to close it completely down and use the practice mute for practicing.
Don't let the pretty cabinet fool you. The sound and touch of the piano is incredible and quite capable of taking a beginner or keeping up with an advanced player.  Many musicians choose this piano because of the cabinet design and performance qualities as well.
If you are looking for the perfect, stylish piano that goes past its looks, you have found it.  Incredible piano, incredible price and one that will be handed down from generation to generation.
Due to our contractual agreement with our manufacturer we are unable to print prices online. Therefore, we request that you visit our showroom for pricing information and see the models.  
Brass Hardware 
German Röslau Strings
100% Virgin Wool Hammers
Solid Spruce Soundboard
Slider Style Fallboard
German Designed Action
Height: 48"
Width: 60"
Depth: 25.25"
Weight: 543LBS