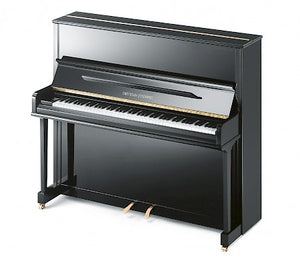 The G-124 is the choice of many pianist because it fits perfectly in most spaces but delivers the sound of a grand piano without taking the grand footprint.  This piano also features a full European action that gives you the feel that you would expect from any well made European upright piano.
Many professionals  opt for this model.  It seems to bridge the gap between to small and to large.  It feels good, looks good and sounds incredible.  
Due to our contractual agreement with our manufacturer we are unable to print prices online.  Therefore, we request that you visit our showroom for pricing information and see the models. 
The specifications are the same for each of these models:
Brass Hardware
German Röslau Strings
German Abel Hammers

German Solid Spruce Soundboard
Height: 49″
Width: 61″
Depth: 22.8″
Weight: 562 LBS