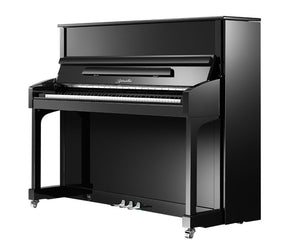 The UH series take the Ritmuller line to an entirely different category.  It is a much more refined sound and feel than that of its close sibling, the UP series.  While the UP series is a little more affordable, the UH series has a slight increase in price but offers much more than the price difference.  
The UHX132 has taken a similar scale design to an entirely different level.  In addition to all of the upgrades the UH series affords, the scale design leans the strung back into a very small incline to allow for a more powerful sound coming out.  Think of it as the singer who leans back a little when they are coming to the strong part of a song.

The UHX132 makes its closer competitor cringe with jealousy, yes, it is really that good. It becomes quite evident even to the amatuer.  
Due to our contractual agreement with our manufacturer we are unable to print prices online.  Therefore, we request that you visit our showroom for pricing information and see the models.  
Silver Hardware 
German Röslau Strings
German Renner Hammers
Solid Tapered Spruce Soundboard
Slow Close Fallboard
Ebony Sharps
German Designed Action
Height: 52.5"
Width: 60"
Depth: 25.25"
Weight: 597.5 LBS