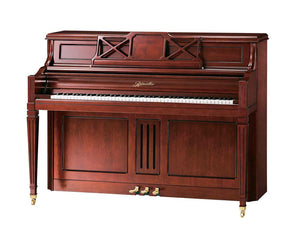 RITMULLER
This affordable and cost conscious piano is one of the best on the market in its price range.  They are designed by the same famous German designer as the rest of the line but the UP110 series is simply a smaller footprint.  
This piano has become a favorite because of its size and cabinet design.  The UP110RB and UP110RB1 are known as American case styles.  While the UP110RB has Queen Anne legs in satin cherry, the UP110RB1 has straight legs in satin walnut. 
All three of the UP110 models have different and unique legs and cabinet stylings.  At the same time this particular series has the smallest footprint and lightest weight of any piano in its price range on the market.
Due to our contractual agreement with our manufacturer we are unable to print prices online.  Therefore, we request that you visit our showroom for pricing information and see the models. 
The specifications are the same for each of these models:
Brass Hardware
German Röslau Strings
German Designed Hammers

All Spruce Tapered Soundboard
Height: 43″
Width: 60″
Depth: 23.5″
Weight: 465 LBS
Available Finishes: