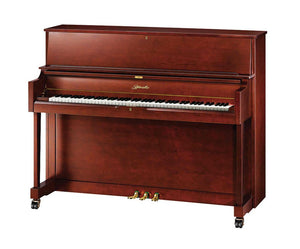 RITMULLER
This model by Ritmuller is designed to take a little more wear and tear than the average piano in the home.  It has a locking key cover and lid to make it a little more safe. Ritmuller continues to make this model an affordable and cost conscious piano just designed with a little more ruggedness in mind. 
This piano has become a favorite because of its size and cabinet design.  The UP120RE is designed to be a little more institutional with larger casters making it easier to roll from place to place.  The interesting thing about this piano is that a lot of parents of younger kids prefer it because it locks. It's also the largest models that come in a satin finish.
Due to our contractual agreement with our manufacturer we are unable to print prices online.  Therefore, we request that you visit our showroom for pricing information and see the models.
The specifications are the same for each of these models:
Brass Hardware
German Röslau Strings
German Designed Action
German Reinforced White Felt Hammers
All Spruce Tapered Soundboard
Height: 47.25"
Width: 59"
Depth: 24.5"
Weight: 509.25 LBS 
Available Finishes: