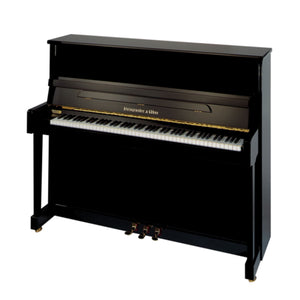 Steingraeber | 122T | 48" Upright Piano
The model 122T is the smallest upright piano that Steingraeber makes.  However, its powerful sound and exquisite tone and touch makes it an extremely desirable piano. Many universities use this model because of its small size but uncompromising performance.  This model has a huge following among top notch music universities and conservatories throughout Europe.  Some examples are:  
Paris (FRA) Conservatoire N.S.M.D.P., Regensburg HfKM, Rheinsberg Kammeroper (Schloss Rheinsberg), Schlitz Landesmusikakademie Hessen (Schloss Hallenburg), Schwerin Mecklenburgisches Staatstheater, Trossingen Musikhochschule, Weimar Schloss Belvedere
Like the 138 and the 130
there are many options available and can even be custom designed to anything you can imagine.  
The cabinet can have most any exotic wood that meets the government CITES requirements or any color that you would like to color match. Multiple finishes are available as well. Basically, if you can dream it Steingraeber can produce it. 
Due to our contractual agreement with our manufacturer we are unable to print prices online.  Therefore, we request that you visit our showroom for pricing information and see the models.
There are to many options available to list so we created a standard list of most asked questions. 
Brass Hardware Or Customizable 
Roslau Treble Strings, Copper Wound Handmade by Steingraeber 
Renner Hammers Using Exclusive Steingraeber Materials And Shape
Local Bavarian Spruce Soundboard Made By Steingraeber
Height: 48"
Width: 58″
Weight: 478 LBS