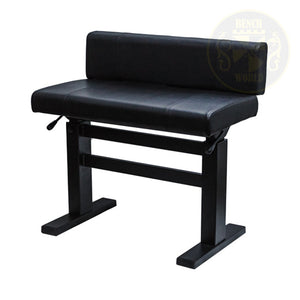 ADAGIO PNEUMATIC CHAIR | MADE IN EUROPE | SYNTHETIC LEATHER | $790.00
Experience the ultimate comfort while playing your piano with the Adagio Pneumatic Chair.
With its adjustable height through a gas pneumatic mechanism, this piano bench is 25 inches long and 12 1/2 inches wide, with a height that can be adjusted from 18 1/2 to 23 inches. Plus, its sturdy solid steel structure is university grade, so you know you're getting the best of the best.

No need to worry about wobbly and uneven floors, because the Adagio Chair Pneumatic has an adjustable rubber on each leg. Its back support can also be adjusted to your liking, whether higher up or more horizontal towards the piano keys. And with its comfortable 2 3/4 inch ultra-thick cushion made of black European premium vinyl with square corners, you get more seating area to move around.

Benchworld is dedicated to providing top-quality products, which is why we guarantee that your Adagio Chair Pneumatic will be delivered without any defects or damage. So sit back, relax, and enjoy playing your piano with this heavy-duty mechanism piano bench.
Specifications:
– 25″ Long x 12.5″ Wide, 18.5″ Adjustable up to 23″ High
– Black sturdy solid steel construction featuring a reinforced center support
– Adjustable with use of pneumatic gas style mechanism
– Very thick 2 3/4″ cushion with synthetic leather including the back support 
– Back support: 25″ Long x 6″ Tall x 3″ Thick
– Back support is adjustable with two horizontal positions: 9.5″ or 10.5″away from the front edge of the seat
– Back support is adjustable with in two vertical positions: 0″ or 1″ away from the seat
– Each leg has an adjustment for use on uneven floors to avoid a wobble. 
Package Contents:
– 1 x Piano Bench (Legs and Back Support Assembly Required)
– 1 x Wrench
Assembly Instructions
Warranty:
– 1 Year Warranty on all of the parts